Owning an investment property is an exciting accomplishment and can play an important part of your personal capital investment plan. However, if you are spending your own valuable time managing your property, then the rewards of owning an investment property can be reduced.
At Activewest our property management team strives to provide our property owners a higher level of confidence that they are receiving genuine management advice and service they deserve.
How do I change the management of my property over if it is currently being managed by another agent?
Firstly you need to be aware of your expiry date for the existing Managing Authority you have with your current Agent (fees may apply if the Authority has not expired). If your Managing Authority is going to or has expired you will need to provide your current Agent with 28 days written notice to advise that the property will be being transferred to your chosen agency.
Once we received all the documentation from the previous agency, we will make contact with the tenant to advise them that we are their new Managing Agency and all the details they will need to successfully pay rent.
We will also arrange a one off inspection to meet the tenants and get a feel for the property. After this time the normal 3 monthly inspections will take place.
Activewest Vacancy Rate
2.3%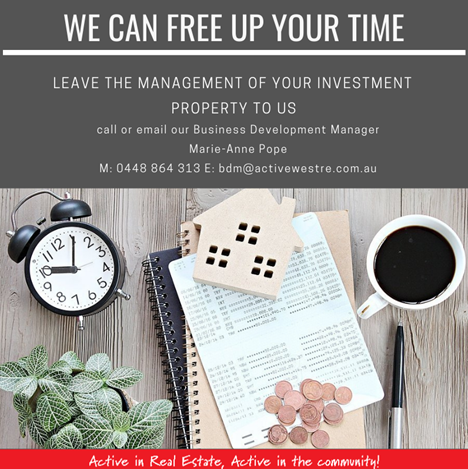 Do I need Landlord Insurance?
Our duty of care to you includes informing you that owning a residential rental property comes with some risks. These include loss of rental income due to changes in your tenant's financial circumstances, damage to your property caused by your tenant or if a tenant or a member of your tenant's family may injure themselves on your property and you may be found liable. These are exposures that could result in substantial financial losses to you.
Don't be alarmed! These risks can be covered with a quality landlord insurance product. We have included a brochure with this Portfolio detailing RentCover landlord insurance provided by EBM Insurance Brokers. We are a Corporate Authorised Representative for EBM Insurance Brokers and as such can handle all aspects of any claims that may arise on your behalf. Unfortunately at this time we do not handle claims with any other insurer.
If you already have landlord insurance or are considering a policy with your current insurer, please take a moment to check to ensure you are adequately covered for:
Loss of rent
Loss or damage of contents including carpets, curtains, light fittings etc (accidental damage and malicious damage)
Loss or damage to building
Legal liability of you as Landlord for damage, injury or death 
Legal expenses
Whilst we will take all necessary care and action to ensure your property is maintained to a satisfactory standard, we are obviously not able to watch your tenant 24 hours a day. Unfortunately there are sometimes occasions when your tenant will let both you and us down. Adequate landlord insurance can make this regrettable situation a little easier.
Finding the Right Tenant
Ensuring that your investment property is let to the right person is obviously extremely important. To make sure we find you the best tenants possible, we carry out an extensive screening process:
Identification checks at application – similar to the 100 point check system used by banks.
Database checks – we utilise both TICA (Australasia's large defaulting tenant database) and NTD (WA's REIWA database).
Comprehensive reference checks including previous landlord, personal reference and employment checks.
In addition to the above, each prospective tenant is met personally by one of our Property Managers when they view your property. Once all applications have been thoroughly checked, the successful tenant is chosen by you in consultation with one of our Property Investment Management Team.
Interested in Property Management? Get in Touch!